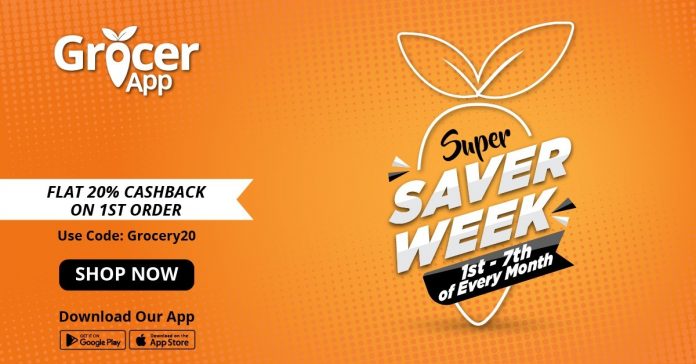 GrocerApp is the leading e-grocers in Pakistan, a platform that offers a full-range of groceries, fruits & vegetables, and meat at competitive prices. GrocerApp lessens the fears and myths of online purchasing like late deliveries, quality issues, and high prices. In this fast-moving high paced world, it's really hard to take time out for some weekly and monthly tasks such as groceries. Sometimes one feels really lazy to spend a whole weekend to roam in the supermarket and rowing a trolley. The grocer app is a one-stop hi-tech solution for your grocery needs. Grocerapp works on the motive of delivering high-end products on market competitive prices with same-day delivery at your doorstep by 6 pm.
With Super Saver Week GrocerApp has given new heights to the e-grocers market. Providing high-quality products lower than the market prices giving a discount of up to 40% from 1st till 7th of every month and 20% cashback on your first order. super saver week is a convenient alternative for men and women who like to get both convenience and savings for their monthly grocery shopping. Initiating a 40% discount with the addition of 20% cashback on first order Grocerapp has instigated a new trend in the e-grocery market.
When you know that you are being facilitated with the high-quality products on marginal prices being delivered at your doorstep, you will surely put a full stop on the hassle of supermarkets. Act smart and download the app and save on your monthly grocery budget with GrocerApp.