Making many people famous around the globe, TikTok has emboldened talented individuals who were looking for an opportunity to do things on their own. It has allowed people to delve deeper into their interests and mix them with a little bit of creativity.
The outcome is that many people are now successful content creators who make videos pertaining to their interests and passions or just to document their daily lives in a fun and interactive manner on all walks of life. TikTok is not just a dancing and lip-syncing app, if we talk about the food culture specifically, TikTok has changed the cooking game for millions of active users by revealing some pro chefs with hidden talents. Even in Pakistan, there are some very talented creators who make scrumptious food videos!
The one-minute recipes and food hacks by some food accounts on TikTok have gained a lot of attention. Viral dishes have tempted foodies to try mouth-watering dishes since Pakistanis do not shy away from trying new delicious food items.
Hats off to TikTok for providing a platform to talented chefs who make us all drool with their tempting food videos and leave us all astonished with modern cuisines and unique recipes.
Here are the top, most exciting, and informative food accounts on TikTok in Pakistan where food content ranges from savory to conventional. These accounts upload food videos and share tips that are both easy and cost-effective.
Village Food Secrets: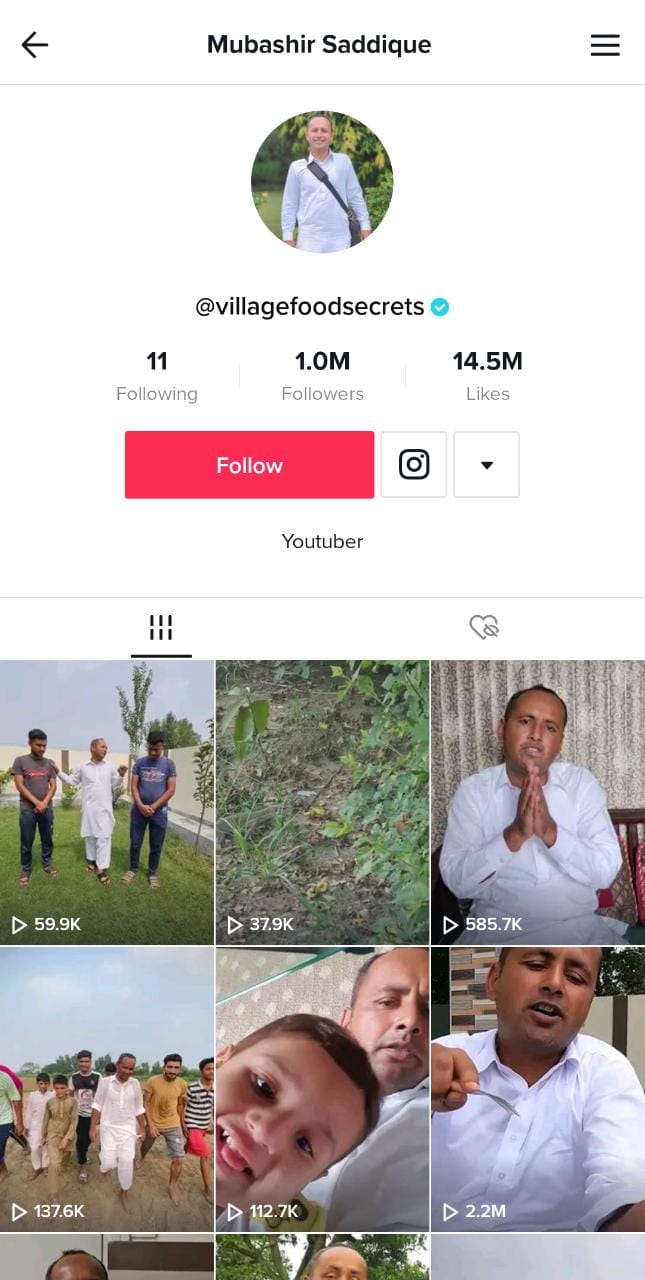 Everyone's favorite Mubashir Saddique is making it big on TikTok as well. Mubashir comes from a small village in Punjab. He makes unique content using his special cooking skills. Without having state-of-the-art equipment for cooking, he has managed to earn millions of loyal followers because his videos are engaging, well-edited, and highly persuasive for the users. For me, it is my go-to account for traditional recipes in Pakistan.
Salt to Taste:
Having 2.7M followers on TikTok, @Salt_to_taste is another choice for go-to recipes. It is one of the most diversified food-related accounts on TikTok, where you can learn to cook your preferred dishes. Here you can find recipes from different regions like Continental, Chinese and Italian. Moreover, a wide array of sweet dish recipes are also featured on @Salt_To_Taste.
Food Fusion PK:
On no. 3, we have Food Fusion, which provides solutions by preparing hygienic, delicious food with modernized cooking methods. Food Fusion has gained immense popularity since the onset of the pandemic and is considered the top quick recipe destination for Pakistanis.
Aliabbas3312:
Ali Abbas is another vibrant chef on TikTok. Having a large following on TikTok, Ali shares easy and modern cooking recipes with viewers and mostly bakes cakes and sweet dishes of different types. Ali's channel can be a perfect place for sweet lovers to learn about the extensive range of cakes and other desserts
That Fooodie Girl:
Tayeba is one of the new sensations in the food category since she is making it big on TikTok with a good following on the platform. Tayeba, from Gujranwala, has already shared a number of modern recipes through her creative content. She cooks different dishes like fast food, desserts, fried items, snacks, and bakery items.
These talented creators clearly show that TikTok has outdone the rest and has already made massive penetration in the digital media market. Not only because it's a mainstream platform, but because TikTok has given a voice to millions of people to showcase their incredible skill set, offering them numerous opportunities to be in the spotlight.